In the portfolio of Poezdka Media are currently represented over 140 different travel portals in seven languages: English, German, Russian, Italian, French, Spanish and Polish.

In total, the travel portals of Poezdka Media has over 1.5 million visitors per month with the number of about 4,5 million views per month. All portals of Poezdka Media are available for promotional campaigns. Banner advertising is placed according with the CPT (cost per thousand) system. Portals can be grouped into packages based on language, geographical segment, topic, as well as individual sites for placing various types and formats of advertising.
Vertical Travel Network Guide Max-TD Media Kit
Visitors, march 2012 - languages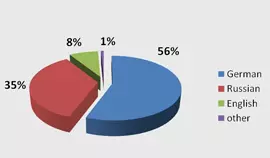 The portfolio is represented by the Internet projects of MAX-TD Company, Sydney, Australia. Poezdka Media GmbH manages the advertising projects on all portals.

For the advertising campaign, all submitted sites can be combined in groups by subject, language segment, country, as well as target audience. Portals can be formed into packages in accordance with the requirements of advertising. Thus, the ads will be most closely focused on different sites.

Portals are presented with a brief description of the target group, key words as well as possible ad formats.

Please send your applications to E-mail: marketing@poezdka-media.com. Our marketing department will offer you the best package of sites for your campaign.
Navigation
The right partner
140 INTERNATIONAL TRAVEL PORTALS
Represented in more than 33 countries in different languages
ADVERTISE IN 7 FOREIGN LANGUAGES
Speak to your Visitors in their own language
ABOUT 1.5 MILLION VISITORS PER MONTH
One of the largest independent Travel Guide Network in Europe since 2006
EFFECTIVE BANNER AND CONTEXTUAL ADVERTISING
Choose your form of advertising that suits you:


Vertical Travel Network Guide Max-TD Media Kit
Your contact person